YouTube is the 2nd largest search engine in the world (after Google) and it rivals Facebook in most countries in terms of monthly active users. These two reasons alone make YouTube a high priority channel for any marketer.
Optimizing your videos to make them easily found is the best way to maximize your exposure on YouTube.
We need to think about YouTube less as a social media channel (although it certainly is one) and more like a search engine. This makes it really unique in the world of social media since we tend to search less on other social channels (if at all). Whereas for most YouTube users, the first thing they do when opening the app or going to the site is to perform a keyword search.
What are YouTube Hashtags?
With 500 hours of video uploaded to YouTube every minute (!!!) you need to do everything you can to help users find your videos in the vast ocean of videos on YouTube. Hashtags on YouTube are used much like how hashtags are used on other social media channels - they're designed to group similar videos around topics or themes. There are 2 ways to add Hashtags to your videos:
1. Video description
This is the most common way to add hashtags to your YouTube videos. There isn't any special field or method for adding hashtags, you simply add them within the text of your video description. In this example below, SEOptimer has added 3 hashtags into the bottom of their video description:

You can add up to 15 hashtags in the description but the first 3 hashtags are the most important because YouTube takes these first 3 hashtags and adds them as clickable links above your video title: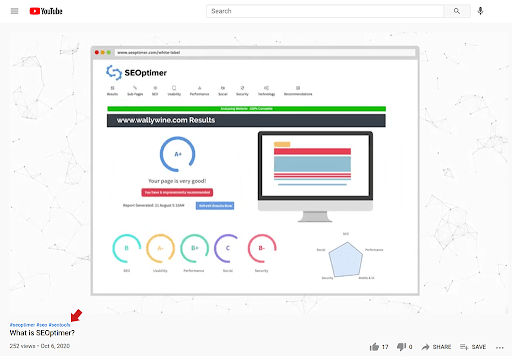 Clicking these hashtags takes you to a hashtag page showing all other videos on YouTube which use the hashtag, so be mindful of how active your competitors are on the hashtags you use and try to include a mix of competitive and unique hashtags: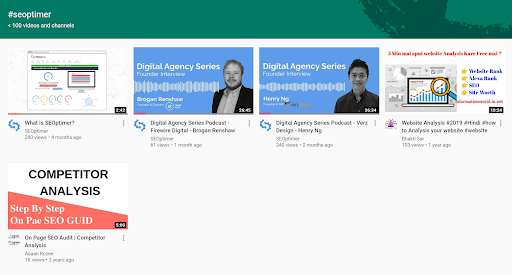 We recommend assigning your first 3 YouTube hashtags this way:
use a brand hashtag (eg: #seoptimer)
use a popular category hashtag (eg: #seo)
use a niche / ownable category hashtag (eg: #seotools)
2. Video title
You can also add hashtags to the video title itself which will override any hashtags you add to the video description. This is the less common way to add video hashtags. Use this method if you're wanting to really highlight a particular hashtag or if it's important to your organization's brand. Otherwise, in most cases, we recommend instead using the first method - add hashtags in the video description instead of the title.
Why are YouTube Hashtags important and do they work?
YouTube Hashtags aid the discoverability of your videos. Since YouTube is primarily a video search engine, it uses many ranking signals to determine the position of videos on the search result page. Hashtags is one of these ranking signals so using it together with other signals like the video title and description will help your video SEO efforts. Hashtags help provide context to YouTube about your video. Not only that, they help your viewers too by reinforcing the topics and themes covered in your video.
Backlinko performed a study into the effectiveness of Hashtags to aid search rankings: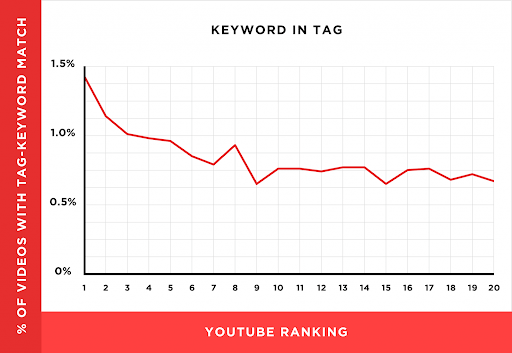 Here we can see a correlation between videos that ranked #1 in search results and a higher proportion of those videos using YouTube Hashtags. There are certainly other factors at play, however this is reliable evidence that Hashtags should be used together with other YouTube SEO best practices.
What does the YouTube Hashtag Generator do?
The YouTube Hashtag Generator suggests hashtags based on your initial target keyword. Our advanced technology indexes the most popular trending YouTube videos that mention your keyword and finds adjacent hashtags based on what people are searching for. Using these hashtags can then help improve the discoverability of your video.
Simply enter your target keyword, then choose from a shortlist of trending hashtags. You can choose up to 15 but we recommend to focus on relevance (quality over quantity). As mentioned above, you should pay close attention to the first 3 hashtags as these will be shown above the video title. In most instances, 3 hashtags will be sufficient.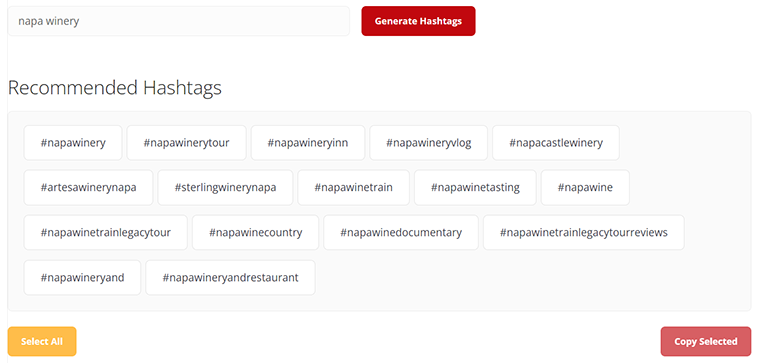 Click each hashtag you want to use, then click 'Copy Selected'. This will load the hashtag's into your clipboard. Then go to YouTube and paste the hashtags into your video description.
How to use the Hashtags on YouTube?
Hashtags on YouTube work just like hashtags on other social channels. By placing the pound sign (#) in front of any word, you can turn it into a clickable hashtag. You are limited to just alphanumeric characters so you can't use special characters or spaces in your hashtag.
For multi-word hashtags like "mortgage broker", simply remove the space: #mortgagebroker. When using multiple hashtags in a string, there's no need to add commas or semi-colons, simply use a space to separate hashtags or use the hashtags normally in a sentence. Both of the examples are correct below:
Video description example 1: #mortgagebank #mortgagebroker #homeloans
Video description example 2: Here at #mortgagebank we strive to offer competitive #homeloans to first home buyers. Schedule a call with a #mortgagebroker to discuss your individual needs.
Hashtag Optimization Principles
The YouTube Hashtag Generator does most of the optimization for you by only suggesting hashtags related to your keyword that have the highest searches. However, we do recommend using several different keywords in the Generator to refine your hashtag shortlist.
You can find hashtag opportunities by experimenting with your keywords - try starting wide (category or industry level) and refine by tightening the keywords into sub-categories or niche topics. Doing this will help reveal further hashtag opportunities to add to your shortlist.
Don't forget to run this process with competitors and understand the diversity of hashtags they use including any other channels in your niche such as news, publishers, influencers or vloggers.